1.     Is a website a good place to post details about our wedding online?
Yes.  A wedding website is an excellent choice instead of e-mailing or mailing directions, time and locations for guests and it's an accessible place to retrieve information without searching through mail.  There are wedding websites with great features, R.S.V.P. page, checklists, and gift trackers, to help you stay up to date.   
 2.   How far in advance should I request R.S.V.P.'s?
Three weeks before the wedding will allow you a larger window to review guests who have not responded and to get them to reply.  Remember, you need to get the final guest count to your caterer.  If you prefer to send invitees to your wedding website R.S.V.P. page this may produce fast replies.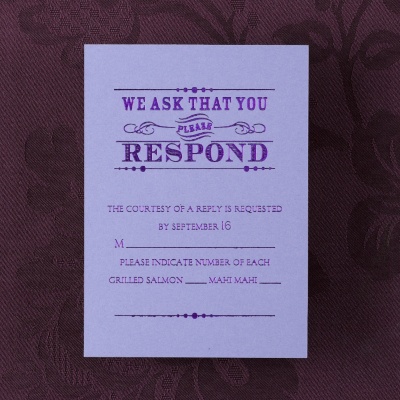 3.   What's the best way to get guests' addresses?
The best way to collect addresses and telephone numbers is e-mail and it's efficient.  Your wedding website can send an e-mail to friends requesting their home addresses.  Make sure you have the correct spelling of your guest's full name for when you address the invitations.   
4.     Should I invite distant relatives?
If you have an elderly relative who provided you with a gift as a child every year, send them an invitation.  If you haven't heard from cousins for many years, it's very likely she won't mind not receiving an invitation.  
5.     Should I invites significant others of single guests?
No is the legitimate answer.   However, someone who has a partner who means a great deal to your guest could end up with hurt feelings if they were not invited.  If it's just a few friends with significant others, then including them would be thoughtful.  Especially if they are traveling to your wedding from out-of-town or you really like the girlfriend or boyfriend.   
6.      What is the proper etiquette for a formal invitation?
The parents of a bride getting married in a house of worship selects a 10 to 12 line traditional wedding invitation that reads:

Mr. and Mrs. James Steven Smith /request the honor of your presence/ at the marriage of their daughter/ Joyce Maria /to Mr. Robert  David O'Neal /Saturday, the Twenty –third of August, Two Thousand Fourteen/at Six o'clock/ St. George Church/11456 Middleline Avenue/Farmington Hills, Michigan

If you need additional etiquette advice for divorced or deceased parents, then rely on what your wedding planner or stationer use for guidance in Crane's Wedding Blue Book. 
7.      How do I let guest know to leave their children at home?
The rule in wedding etiquette is if the names of children are not included on the invitation, then they're not invited.  If you believe a family member or friend will bring their child with them, then kindly call them and let them know as much as you would love to include them, you can't.
8.    How can I use my secondary B-list of guests?
Make sure all of your A-list guest are organized to review when your get the R.S.V.P.'s.  Mail out the A-list at least eight weeks before the wedding.  After two weeks have passed, add up the noes you've received and add 20 percent.  Using that number is how many B-list invitations you can send.  Mail out the B-list six weeks before the wedding date to ensure the time frame is met you will have less chance of offending B-listers.
 Invites tips
 Make sure you have the correct spelling for the ceremony, names, address, date and time are correct.
Hire a calligrapher to hand address your invites or someone with beautiful handwriting.  Don't use stick on labels for your addresses.
Place gift registry or charitable-giving information on your website.  Also, family members can help spread the word.
Select from a complete line of
elegant wedding invitations,
shower, save the date and accessories
for your special day.
http://grandeleganceevents.carlsoncraft.com/index.jsp
wedding invitations photos by Carlson Craft